Cashpower e-Vend Server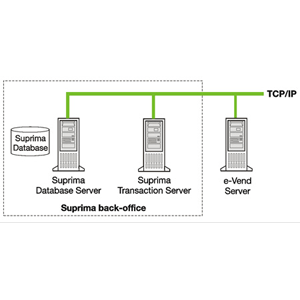 Suprima web server provides real-time token vending over the LAN/WAN, Intranet or Internet
Suprima e-Vend is a web server which provides a real-time token vending service interface for authorized vending clients over the LAN/WAN, Intranet or Internet.
Specifically designed for low bandwidth ICT network environments, e-Vend provides full token encryption capabilities without the overhead costs of local encryption hardware at the point of operation. It serves as a middle tier between the Suprima back-office and front-end vending clients and third party vending servers.
e-Vend runs off a standard computer without the need for a database thereby enablng utilities to vend from remote offices. The server application manages any number of remote devices from a central point in the vending infrastructure. e-Vend facilitates communications between Suprima-compatible thin-client vending terminals, which can be personal computer based, point-of-sale terminal based or based on any platform that supports HTTP communications such as PDA's, cellphones and other third party products as described hereunder.
The e-Vend server is an ideal plug-in point for all current and future technologies. It supports Suprima e-Engineering clients, e-Management Xpress clients, Powervend point-of-sale devices, third party vending and scratch cards.